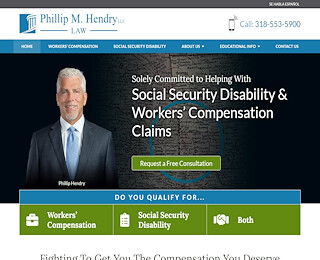 When you have a disability you need to file for social security disability to get the benefits that you are owed. Unfortunately, the process of filing for SSDI can be complex and many people who file are denied. You can make the process easier and more likely to be successful with help from some of the top disability attorneys in Monroe, LA.
Choose the Best Disability Attorneys in Monroe, LA
All attorneys are not alike. Your SSDI benefits are important for you and your family. You need to seek legal guidance from an attorney that has the experience, training, and expertise to handle SSDI claim issues. At Phillip M. Hendry, Attorney at Law, we handle only SSDI and workers' comp cases. This makes us uniquely positioned to provide you with the help you need to get the benefits you deserve. Our team works exclusively with these types of cases so we know the laws and the guidelines that you need to follow to make sure that they approve your application.
Hire an Attorney That Gets Results
At Phillip M. Hendry, Attorney at Law, we have years of experience with SSDI claims. We are one of the best disability attorneys in Monroe, LA. We understand what is necessary to provide in order to get your claim approved. We guide you through the process from start to finish making sure that you gather the information and data you need to submit in order to get the benefits you request. We have helped thousands of people get their benefits, even when they were previously denied. We know how to get results.
Free Initial Consultation
Not all attorneys are so sure of their abilities that they offer you a free initial consultation. At Phillip M. Hendry, Attorney at Law, we understand the needs of our clients. We offer free first consultations to help you determine your needs and learn how we can help you with your SSDI application or appeal. We assist you with the process to make it easier and stress-free. Many applications get denied because the applicant failed to provide proper information or details about their injuries. We know the data that you must submit for the highest likelihood of approval.
Don't Delay – Seek Legal Help for SSDI Denial
If you submitted your SSDI application and received a denial notice, you need to take action quickly. You only have a limited amount of time, typically 60 days, to appeal your denial. If you fail to file a timely appeal, you will lose your ability to get benefits. As one of the leading disability attorneys in Monroe, LA, we work quickly to evaluate your claim and help you gather the documentation you need for your appeal. We make sure you won't miss the critical deadlines and at the same time, we take care to pay attention to detail to file a proper appeal.
If you have a disability and need to file for SSDI, don't take matters into your own hands. Trust the services of skilled disability attorneys in Monroe, LA. Contact Phillip M. Hendry, Attorney at Law, for a free social security disability or workers' comp consultation if you live in Louisiana
Phone: (318) 353-8104 Workers Comp: https://www.philliphendrylaw.com/workers-compensation/
Social Security Disability: https://www.philliphendrylaw.com/social-security-disability/